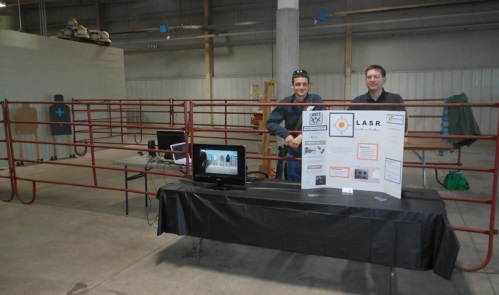 Showing LASR for the first time, early 2013.
We offer custom software development with wide-ranging capabilities and a wealth of experience. From consumer-grade mobile apps to point-of-sale systems, we are a full-service house.
Contact Us
History
In late 2012, John of MWTS started experimenting with a laser pointer, a webcam, and a computer. Through a local gun forum, he got in contact with Jason of Centrolutions, a software developer, and they turned John's idea into a piece of software. After a bit of development and polishing, LASR: Laser Activated Shot Reporter Version 1.0 was released in early 2013.

Both John and Jason continue to work as partners on the software as they develop more features and functions. LASR has had a number of minor and major version upgrades. Most recently LASR 4.2 was released, and just like all updates, was free for all users. The software has been featured in a number of magazines, blogs, video channels, and John and Jason can be found at most major events in the firearms industry, including SHOT show and the NRA Annual Member's Meeting.

In late 2018 we released LASR X. LASR X is a browser-based web app, allowing LASR to run on ANY device with an internet connection. The original LASR software was renamed to LASR Classic to avoid confusion, as it is still the best option for many users. Both products will continue to be sold, developed, and supported for the forseeable future.