Advanced Options for LASR
"Stay sharp between range sessions, practice things you can't do at the range."
Your Computer
Any Laser Trainer
Any Webcam
Any Targets
LASR Software: $120.00
Use the "Build My Kit" tool to get started!
Additional functionality for the LASR Software

All five LASR Plugins in one convenient bundle

Instant Email Delivery (No Shipping Required)

Free support and updates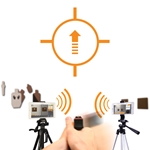 A LASR X Lifetime license that comes already upgraded for multiple logins, networking, and multi-player.